State Representative Madeleine Dean, resident of Abington Township, has withdrawn from the Lt. Governor campaign to run for the newly redrawn, 4th congressional district, Montgomery County.
Madeleine Dean spent her childhood here in Glenside, she graduated from Abington High School, and currently resides in Jenkintown. Since 2012, Dean has been the State Representative of the 153rd Legislative District which encompasses Upper Dublin and Abington Townships. Prior to her representative position, Dean was the Abington Township Commissioner of Ward 7.
Yesterday, Representative Dean announced her decision to withdrawal from the Lt. Governor campaign and to run for congress .
"I wanted to use my track record as state legislator to help Governor Tom Wolf reform Harrisburg. But this is a once in a lifetime opportunity to serve. This week's creation of a new congressional district in the county I've represented and lived in my entire life, demanded consideration."
In pushing to be a new voice in Washington, Dean stated, "Pennsylvania sends 18 Congressmen and two Senators to represent us in Washington, and not one of them-not one- is a woman. We have a Republican-controlled Congress that isn't doing its part to hold Donald Trump accountable – a majority that is undermining the education of our children, a woman's right to choose, a delegation that refuses to support common sense gun safety measures. With Donald Trump in the White House, our country faces a crisis – I feel an obligation to try and make things better."
Madeleine Dean is known for proactively trying to crack down on gun violence and the safety of our children. After the shooting at Sandy Hook Elementary in 2012, she and Representative Dan Frankel cofounded PA SAFE Caucus. This is a gun violation caucus that proposes legislation for "universal background checks, reporting lost or stolen firearms, banning the sale of deadly devices such as bump stocks, the timely sharing of mental health records to the national check system, and temporary firearm restraining orders for those shown to be a danger to themselves or others."
Glenside Local spoke with Dean yesterday about PA SAFE and she stated "It has been sitting in the House Judiciary Committee without one vote". PA SAFE recently has gained attention due to a call-to-action campaign, which generated 2400 emails that were sent to legislative leaders requesting a hearing on the bills.
"The bills that PA SAFE advocates for are commonsense pieces of legislation that offer real solutions to the sickening problem of avoidable gun violence and death. While there is no single solution to this problem, as lawmakers, we have the ability and the responsibility to enact measures that will save lives. I'm proud to stand up for my colleagues' career-long work on what unfortunately has become an epidemic without action."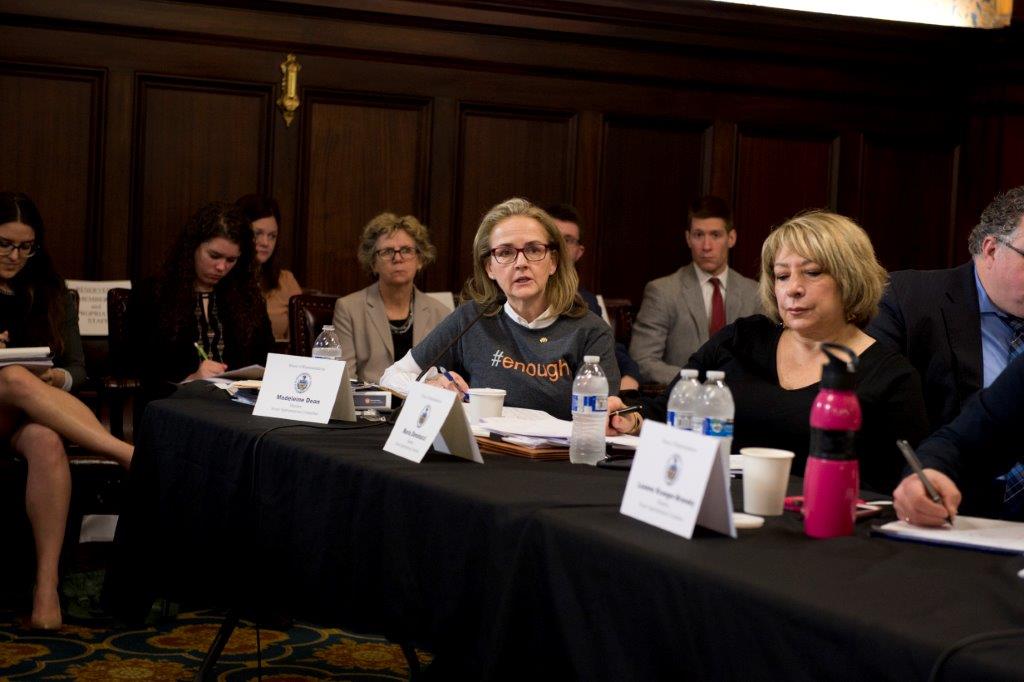 Representative Madeleine Dean tweeted yesterday "Wearing my #enough shirt during @HDApprops #PaBudget hearings to remind legislators that we cannot ignore #GunViolence and we have a responsibility to act to protect our communities. #DemandAction #GunReformNow #Parkland #ParklandStudentsSpeak"
  State Rep. Dean's concluded in her announcement for Congress,
"Washington is in crisis. I'm running to be a part of the solution. In Congress, I'll use my experience to hold President Trump accountable; to fight for middle class- not for deficit-exploding tax cuts to the wealthiest; to adequately address the opioid epidemic devastating our communities; and to stand up to the gun lobby as if our children's future and lives depend upon it -because the do."